Business Finland: building solid IT foundations and making reporting easy
Business Finland has been using Applixure for monitoring the basic health of its End User IT already for several years. Managing over 400 workstations in 35 countries requires a clear view of the workstations in terms of both hardware and software. When the foundations of the End User IT are rock solid, maintenance can be done proactively and managed in a goal-oriented manner.
Business Finland originally adopted Applixure for a one-month trial period. During trial use, it quickly became obvious that they also wanted to adopt the tool for continuous production use.
"For us, this is a basic tool that tells us everything about the condition of our workstations at a glance. With Applixure, we are able to plan future projects, such as software updates, as well as dive deep down to the level of a single workstation component and see whether it requires maintenance. We can, for example, anticipate in advance if a computer's hard drive is about to become too full for software updates," says Jarmo Jonninen, IT Manager at Business Finland.
Predictive maintenance needs also becomes easier when Applixure shows whether a problem situation is an isolated incident or perhaps part of a larger phenomenon.
Easy reporting
Besides looking after the functionality of workstations, the tasks of the IT department include the collection and presentation of various data for the business needs.
"Making reporting easier has also been important to us. Now we can present business management all needed information about the End User IT and its health from Applixure's interface on the fly, if necessary. You could say that Applixure has largely automated our reporting for management," says Jonninen.

"We also realized that Applixure was of great help to us when we were changing IT service providers. We were able to provide a very detailed report of our current workstations, and based on this information, it was easy for the new service provider to design a service package based on our proven needs. Therefore, Applixure is also an excellent tool for us for improving the efficiency of collaboration with the service provider and workstation maintenance," Jonninen continues.
Better control for software versions and inspiration from benchmarks
A part of the basic health of a good IT foundation is the uniformity of the application environment:
"The number of application versions within our organization has a great impact on the amount of maintenance required. Before adopting Applixure, we had as many as eight different versions of the same software installed. This was a bad thing for information security alone. With the information provided by Applixure, we have made it a common practice that there may be no more than two versions of an application in use, so our application environment is now much more uniform in terms of administration and information security," says Jonninen.
A solid foundation has made it possible to switch to partly proactive maintenance and to manage the development of the End User IT from the perspective of a better user experience. Business Finland has taken the comparison with the scores of the End User IT of other organizations offered by Applixure as a positive challenge:
"A commendable number of new features have been added to Applixure over the years. One of the new features we're particularly fond of is comparison with others. We can see in Applixure how the health of our IT environment compares to that of other organizations. Although this is just "nice to know" kind of information, it does make a difference by providing us some healthy competitive spirit to inspire our development as well," Jonninen sums up.
Get started with Applixure
Gaining visibility into your employees' computers and software is easy with Applixure. Start your free trial today, or schedule a demo with our customer success team.
Getting started is quick & easy:
Complete sign-up form
Deploy agents (pre-configured)
Data collection begins immediately; dashboards are ready to view in a few hours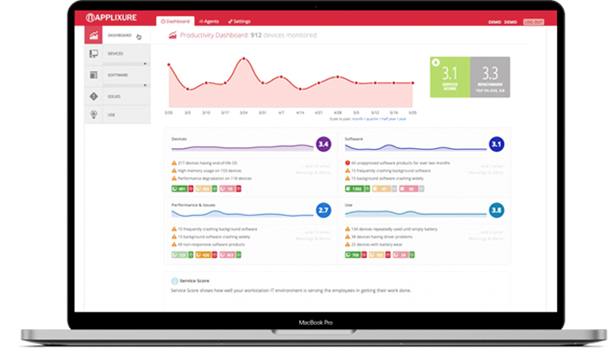 About Applixure: Applixure is a B2B SaaS solution that provides IT with always up-to-date visibility of how computers and software are serving employees. It pulls the relevant data into intuitive dashboards and clearly indicates high-impact yet easy-to-fix issues - enabling your IT to be more proactive. Set-up is quick, so you can start reaping the benefits almost overnight. Founded in 2013 and headquartered in Finland, Applixure is trusted by over 1000 companies and managed service providers.