Monitor, measure and proactively improve how computers and software are serving employees
Applixure's main dashboard displays existing issues in four categories.
At a glance, you see the most detrimental issues in each category, so you can focus your time on what matters the most.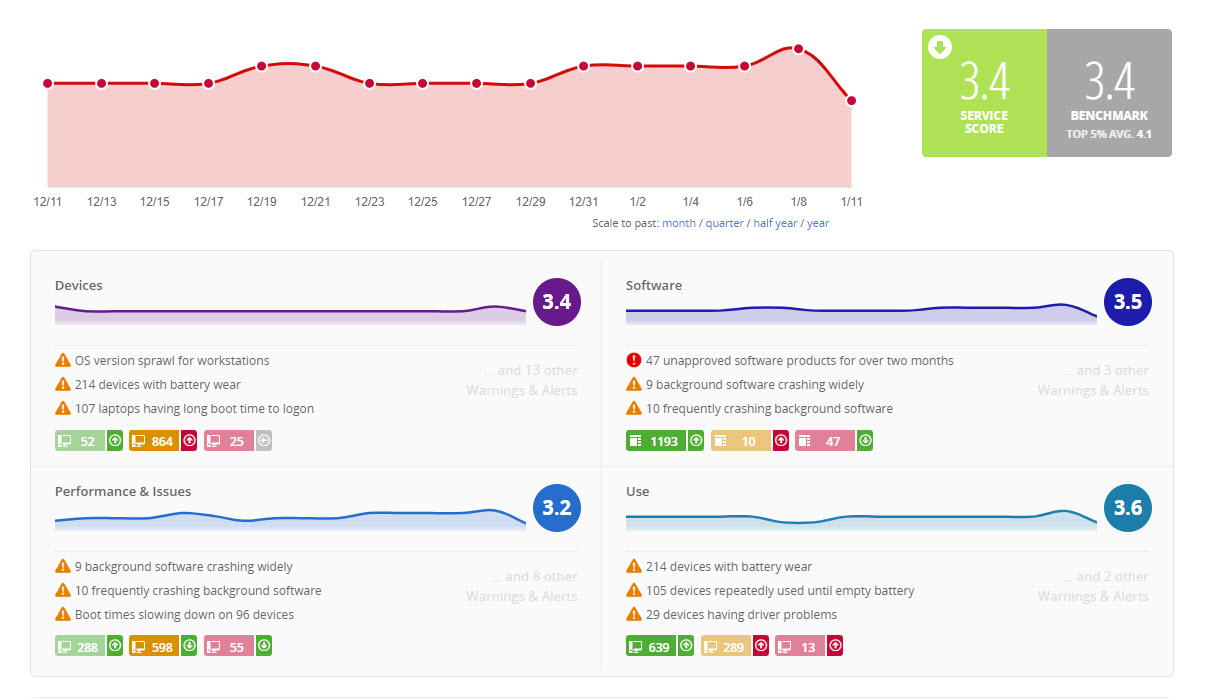 The four categories and some examples of what they track:
Devices:
High memory usage and/or performance degradation
Computers with disk near full or full
Laptops with battery wear
OS version sprawl in computers and having end-of-life OS
Computers 1 year change history
Software:
Frequently non-responding, hanging or crashing software
Issues event history
Installed software products and product usage
Product versions and version sprawl
Installation types and install age
Performance & Issues:
Issues trend history up-to 1 year
Computer start-up and user logon times
Driver and component issues, and missing drivers
Disk encryption state
Latest OS security update install status
Computer users with local admin rights

Use:
Computer powered-on times
Computer daytime utilization
Time since last known computer OS restart
Estimated energy spend per month and per year for all computers
Estimated CO2 emissions per month and per year for all computers
Drill down into the details with a just a few clicks
Applixure's main dashboard shows you the known systematic issues in your computer environment. From there, you can dig into individual computer or software level information to see more details.

See the change history of individual computers
With Applixure's Rewind to History view, you can easily see each computer's change history for up to 1 year back.
Software change history including installations, removals, updates and OS updates.
Hardware change history including hard disks, firmware, memory and drivers.
Events history including major issues.
Drill down into software product-level and version-level information
If you want to look at a particular software product just do a quick search to drill down into even more details such as:
How many devices it's deployed in and development trend
What is the oldest install age
Active use history trend up to one year
How many different versions there are in use
Which version have issues


And, you can drill down even further to see these same details for each version of the software.
Built-in Tracking, Scoring, Benchmarking and Reporting
See how you're improving, how well you're doing compared to others, and easily generate reports to share your results with others

Tracking, Scoring & Benchmarking
Applixure Scores give you a quick overview of the current health of your entire PC environment, specific areas and individual computer and software assets.


Scores are very useful, simplified metrics that monitor long-term changes and trends in your PC environment. They can be viewed on a month/quarter/half year/year time frame.
1: Overall score

Shows the overall score (scale of 1-5) of your environment and the graph shows how that has changed over time. You can also see how you are performing against the benchmark.
2: Asset scores
Shows the score of individual PCs in the left-most column. Colors help you to easily spot those which might need help.
3: Benchmark score
Shown next to your own service score to see how well you're doing compared to others.
Development trends
You can also easily follow development trends (month/quarter/half year/year) of each of the known issue in your computer and software environment to see the progress of your efforts to fix them.
Reporting

Applixure's dashboards are designed to be visually appealing and easy-to-interpret. They can be used as-such for reporting.
Integrations with IT Service Management and Reporting Tools
If you want to build your own reporting dashboards, Applixure is integrated to Power BI web. Or, you can use the Applixure API and build your own reports in the tool of your choice.
Enable automation capabilities and improve operational efficiency with IT Service Management System integration to ServiceNow and Efecte.
Your Data is Safe with Us
EU-based company with data processing & storage inside the EU
(UK customers' data is stored in the UK)
One-way communication between agent & Applixure
Applixure cannot make any changes to the computers (eg. install software, change settings or run scripts)
Only collects relevant data
Applixure only collects the data shown in the tool
Get started with Applixure
Gaining visibility into your employees' computers and software is easy with Applixure. Start your free trial today, or schedule a demo with our DEXi Masters.
Getting started is quick & easy:
Complete sign-up form
Deploy agents (pre-configured)
Data collection begins immediately; dashboards are ready to view in a few hours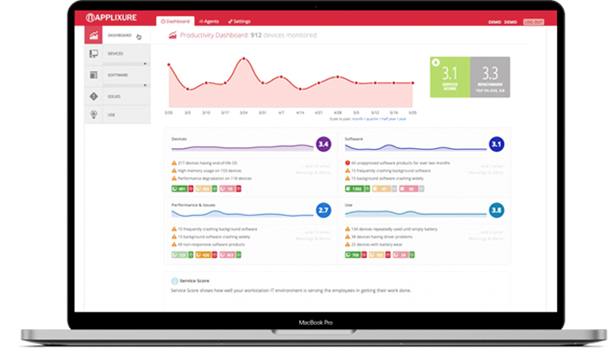 Trusted by over 1000 companies and IT service providers