Elmo: Higher end-user satisfaction with data-driven operations
Elmo, an end-user-oriented IT maintenance company, wanted to improve user experience for its client organisations. The company partnered with Applixure to obtain data from all end-user IT workstations. The improved end-user experience is reflected in higher customer satisfaction. Today, Applixure's data also helps the company to develop its customer relationships.
Initially, Elmo was looking into alternatives for developing the IT environments of its outsourcing customers. The company wanted to develop IT environments holistically and understand the issues that most impacted the IT quality perceived by the end-users. On the other hand, Elmo wanted to improve their ability to quickly react to any IT-related problems. After comparing various alternatives, Elmo found Applixure to tick all the right boxes and offer a superior solution to any competing services.
"We compared a number of things before making the decision. Our key reasons for selecting Applixure was the ability to utilise the collected data directly in third party systems and the automatic IT environment quality scoring provided by Applixure. The built-in scoring system gives an instant overview of the IT environment and is particularly valuable for benchmarking different customer environments and identifying development areas," says Kari Koivisto, Service Manager at Elmo.
Quickly improving IT environments
Elmo has taken Applixure into use for all its outsourced IT management customers. The results have been overwhelmingly positive. As Applixure's data has pinpointed the main problems and key priorities, the quality of the customer environments has gone up quickly.
"Applixure has helped us to plan out a roadmap that spans the entire life cycle of customer end-user workstations. The data tells us if the environment meets the expectations and what the next development needs are. Our customer experience experts use Applixure's data to ensure a positive end-user experience – we get proper metrics on user satisfaction, something that we could not get without Applixure," Koivisto notes.
"With our new working models, customer satisfaction has improved significantly and customer IT environments are getting better and better," Koivisto says.
Future development areas at Elmo include the deployment of Applixure's data in their ITSM system. The company is currently working on integrating Applixure's data to the system.
"With the integration, we will have Applixure's data available directly at our Service Desk. We will develop a proactive ticketing system which allows us to automatically identify problems in customer environments," Koivisto explains.
Data lays the foundation for decision-making
Taking the Applixure service into use was easy: the client software is effortless to install and it runs invisibly at the background, without bothering the end user.
"Getting started and getting data to flow in is really easy. However, what really matters is how you use that data. You should introduce Applixure as a daily tool in your work and keep making practical, data-based decisions that fix actual problems. So, if you want to maximise the benefit of collected data, you should change your routines accordingly," Koivisto concludes.
Get started with Applixure
Gaining visibility into your employees' computers and software is easy with Applixure. And visibility enables you to improve your digital employee experience.
Start your free trial today, or schedule a demo with our customer success team.
Getting started is quick & easy:
Complete sign-up form
Deploy agents (pre-configured)
Data collection begins immediately; dashboards are ready to view in a few hours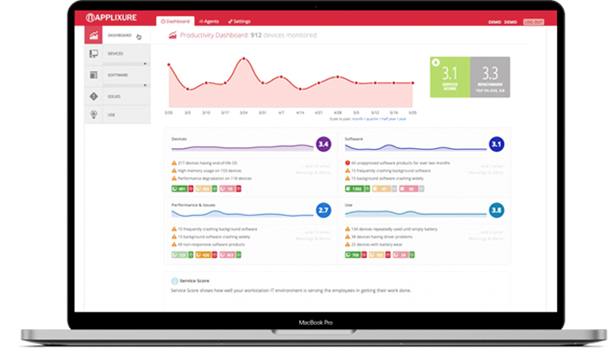 About Elmo: Elmo Ltd. is an IT management service provider based in Tampere, Finland. The company's strategy is to focus on ICT outsourcing and holistic digitalisation services.
About Applixure: Applixure is a B2B SaaS solution that provides IT with always up-to-date visibility of how computers and software are serving employees. It pulls the relevant data into intuitive dashboards and clearly indicates high-impact yet easy-to-fix issues - enabling your IT to be more proactive. Set-up is quick, so you can start reaping the benefits almost overnight. Founded in 2013 and headquartered in Finland, Applixure is trusted by over 1000 companies and managed service providers.