Productivity is a key element of a business' competitiveness. Employees are a business' greatest asset, and their main productivity tools are computers and software. IT has a key role to play in enabling employee productivity. In this blog, we discuss how IT can minimize employee productivity waste and raise the ceiling on employee productivity.
Updated May 24, 2022


IT can minimize employee productivity waste by reducing end-user IT hassles
Employees regularly struggle with computer and software issues – and that costs companies money
According to surveys, information workers waste 22 minutes each day, on average, dealing with IT-related issues. For someone who works 40 hours a week for 50 weeks a year, this means a loss of more than 91 hours a year!
Multiply that by the number of employees in your company and the average hourly salary and you start to get a picture of how much money your organization loses from wasted work time.
And this is not yet the whole truth.
The real cost calculation should include how that lost time effects the company's turnover. So, let's make a simple calculation: a company with annual turnover of 150 M€ and 1000 employees would translate average 75 €/hour as average turnover/employee/hour. If lost work time was 91 hours a year/employee, that would translate to almost 6,9 M€ lost value in business.
IT can put a stop to employee productivity losses due to computer and software issues

So, the question is how can you put a stop to that expensive wasted time?
The answer is by improving the Digital Employee Experience (DEX) through proactive IT. IT can utilize data – or actually needs data – to identify problems related to computers and applications that either disrupt work (e.g. slow computers or non-responsive applications) or interrupt/prevent work (e.g. crashing computers or freezing/crashing applications).
In a proactive operating model, IT has access to always up-to-date data about recurring, systematic issues employees encounter in their everyday work. By tackling these issues proactively, IT can minimize or eliminate them entirely.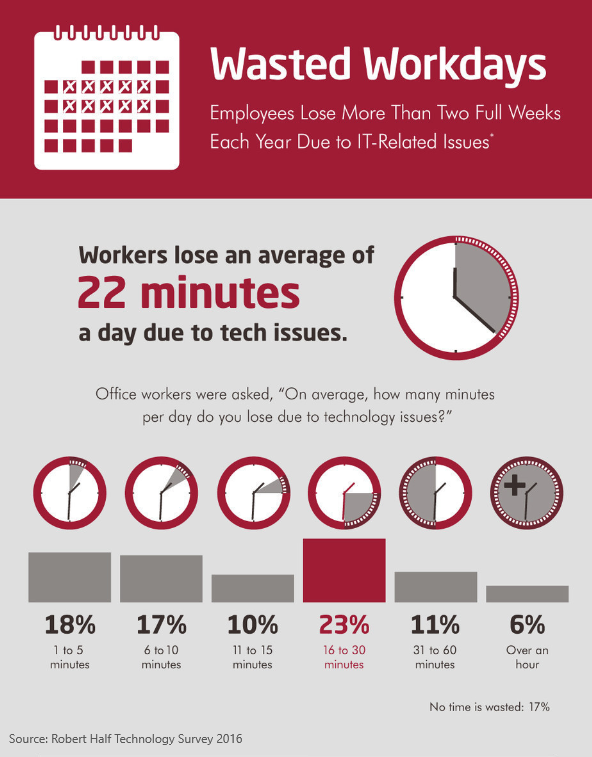 The fewer IT problems employees encounter, the less time they waste on wrestling with them and the more time they spend on doing actual work. So, this is clearly a way in which IT can contribute to the success of the business.

But it's not the only way. Next let's look at how IT can raise the ceiling on productivity.
IT can raise the ceiling on employee productivity by developing the digital tool set in use
Productivity tools are in IT's hands

Not too long ago, an information worker's most important tools were paper and pen for taking notes and sketching out plans, and a paper calendar for organizing work and keeping track of meetings.

Digitalization has brought more advanced tools and operating models. Paper tools have been replaced by software, which has had a significant impact on improvement in the level of productivity. Improving the digital tool set that employees and businesses have in use can have major impact on improving the productivity. Here, IT can (and should) take an increasingly active role.

Many employers have even started to compete about who is able to offer their employees the best tools. Competent employees are key to ensuring competitiveness and that is what they compete in a number of ways; digital tools are one important factor in their repertoire when thinking of how to ensure their employees have the best possible equipment and software to use.

Research firm Gartner has also noted that employee satisfaction has become an even more important matter in company strategies. This isn't just a feel-good topic - enjoying oneself at work increases employee efficiency by up to 20%. Gartner interviewed the HR directors of 843 large companies, of which 51% said that workplace satisfaction was one of the key factors in their company's success. Of course, functional and modern equipment plays an important role in ensuring work is enjoyable.
IT's role in managing employees' productivity tools
An employee's most important digital tools are applications that they use to perform their work. The traditional role of IT with regards to applications is:

Ensuring their functionality
IT has a leading role to play in selecting quality tools (ie. have the right features and functionality) which enable employees to carry out their work as optimally as possible - and which are easy to use. In addition, IT should ensure that users are using the latest versions of software as these have the latest features and functionality and bug fixes.

Compliance/license management
Many applications bill according to number of users or licenses. For this reason, it's important for IT to understand who is using which apps so that they don't get charged for unused licenses.

Information security
Software brings possible security risks especially if the versions are not updated. Here, IT has an important role to play in ensuring that only approved (ie. by the IT department) software is used, and that software updates – which often include security fixes – are installed.


From the organization's perspective, the question is how good is the digital tool set the employees have in use? Do they get the job done well? How modern are the tools we have in use? How can we make sure that users know how to use the tools?

IT can have a major impact on functionality through data-oriented, proactive work, but it can also participate more broadly in understanding and developing the digital tool set if it has good, quality data at its disposal.

Let's look at how IT can drive the process of ensuring employees have the right tools to increase their productivity.
How IT Can Increase Employee Productivity by Driving Selection of Software, Tools and Applications

IT has an important role to play in increasing employee productivity as IT is responsible for employees' more important tools: computer and software. There are hundreds of applications available today which are designed to help employees get their work done and to increase productivity. But in many organizations, this has led to enormous application sprawl. IT can play an important role in rationalizing the tools that are in use in their organization.
Understand what the key productivity applications are
IT should have a good understanding of the key applications from the perspectives of both the company strategy and employee productivity. This enables IT to take independent action to review application environment data and make important observations about the current situation.

An example of this could be collaboration tools that are increasingly important for improving the efficiency of collaboration between people both internally and with third-party stakeholders. A good way to start the review would be to find out how many different software vendors' products, different products from the same vendor, or different versions of the same product are being used, how many users each of them has and how actively they are used.
Drive decisions about what tools a company will use

Let's continue with our collaboration tools example. If it turns out that there are lots of different products (we've had cases where as many as ten different collaboration tools have been discovered in one company!), IT can start the discussion about the reasons for this. Is it because of different user needs or because different parts of the organization have adopted tools without being aware that a tool was already in use in the company?

A situation where a company has different tools for the same purpose is usually sub-optimal. Training and support are one large area: the more applications, the more difficult it is to learn and support them all.

For example, if you have several online meeting tools in use, each one is a little bit different which means that likely someone on the call is unfamiliar with it, and everyone's time is wasted as one person gets their audio/video etc. working. It's far easier if everyone has the same tool (and the same version of the tool) in use: fewer hassles and less wasted time.
Choose the best tools and move everyone onto them

One tool won't always be enough, as user needs may vary (e.g. one-to-one, many-to-many or one-to-many user situations, the need to only present materials vs. ability to work on materials simultaneously online, etc.)

If several products have already been identified to be in use, one excellent way of potentially reducing their number is a user satisfaction survey. If user data is available for an application, the subject of the survey could be products that are actively used, and for those products, the survey could be targeted at active users.

The users are the best people for evaluating how satisfied they are with their tools. Choose tools that get the best reviews (usually this will also indicate that the tool accomplishes its intended purpose) and make a plan for getting rid of unnecessary product versions and consolidating users into the selected products. The fewer products that remain in use, the better users can be trained for the products and the features they provide. And when competence improves, use becomes more efficient, satisfaction with products will increase and productivity will improve.
---


Murata used Applixure to reduce their software applications and versions by 30%. Read case study >>
---
Summary

IT has a key role to play in increasing employee productivity. They have two different levers for this: (1) Minimizing lost work time due to IT hassles and (2) Maximizing employee efficiency by providing them with relevant quality tools (ie. software, applications, hardware).

Key to affecting either one of these levers is access to up-to-date data. IT needs to be able to see what IT hassles employees face day-to-day so that they can work to reduce and eliminate these.

And, in order to optimize the tool selection that is offered to employees, IT needs to be able to see what tools are in use today, who is using them, and how much they are used. That too is data.

If your IT needs help getting visibility into these two areas, Applixure can help. Analytics pulls the relevant data from your computer environment and clearly indicates where employees are running into issues. It also provides visibility of software (and versions) in use, their users and usage levels.
For always up-to-date data, Analytics is available as a monthly subscription. Or, if you'd like a one-time report of your environment, we offer Applixure Health Check.