Case Palmia: Applixure's IT data helps stabilize the operational environment
Managing the quality of Palmia's IT properly has been challenging due to changes in the company's's operational environment. Now Palmia uses Applixure to survey the state of its IT in advance. The data allows planning the right actions for IT quality improvements. As a modern company, Palmia has utilized Applixure in a number of ways to lead the quality of its IT infrastructure and user experience – Palmia has shifted from scheduled maintenance operations to dynamic actions based on real-time situational data.
The fragmentation of the End User IT is a major challenge for Palmia: less than 20% of Palmia's devices are located at its own premises, the rest are individual workstations in external locations. Getting a proper situational picture of the environment posed a challenge in itself.
"For us, it is typical that our IT devices are scattered around at our customers' various locations. Our administration therefore has no physical daily access to the devices. For us, a complaint-based maintenance model would simply not work as users typically do not even report issues they feel are only minor. Instead, users find workarounds such as not using a specific application or they just bear with the repeated problem," says Riku Moisio, Palmia CIO.
Applixure was originally taken into use at Palmia during an IT infrastructure renewal that followed an incorporation operation. Palmia had internally set a goal of providing better IT quality in the future and needed a tool to verify the improvements.
"We compared Applixure with a few alternatives. Applixure stood out with its visual reporting and with an overall more mature solution. As Applixure gathers a comprehensive range of data, we get a good understanding of our devices. What's more, the scoring feature lets us compare our environment to industry averages. All in all, Applixure gives us a comprehensive situational picture of our IT infrastructure and how it serves our users in relation to other organizations," says Moisio.
Moving from scheduled maintenance towards real-time facts
In addition to Palmia's ambitious quality targets, the company has a novel approach to developing IT infrastructure. Applixure's role is to deliver information on the actual state of the End User IT. Action is then taken based on this data. For example, Applixure helps Palmia to see if there are any hardware bottlenecks, such as memory that runs out during everyday work. With this real-time data, the device updates can be scheduled based on actual and acute needs.
"We needed to change the way we think. We had to let go of pre-scheduled operations and make our decisions dynamically based on real-time situational data. Our way of working is now based on IT ecosystem analysis and big data benchmarking with several organizations through Applixure's scoring. This way, we can balance hardware acquisitions and understand the improvements each investment gives us," says Moisio.
"We can also see the big picture and the situation behind the scoring. For example, just a few badly behaving workstations can have an impact on our scores. This way, we can understand the reasons behind the numbers and prioritize our corrective actions," continues Moisio.
In business acquisitions, data verifies customer promises
In recent years, Palmia has made several business acquisitions in which existing End User IT have merged with Palmia's IT infrastructure.
"In case of a business acquisition, for example, Applixure gives enables us to see in advance the shape, weaknesses and strengths of the acquired End User IT. We can also see how coherent the new environment is and what kinds of actions it requires from us," says Moisio.


"Applixure allows us to verify the initial situation and subsequent changes in the environment. Our goal is to make users' everyday work flow as smoothly as possible," concludes Moisio.
Get started with Applixure
Gaining visibility into your employees' computers and software is easy with Applixure. Start your free trial today, or schedule a demo with our customer success team.
Getting started is quick & easy:
Complete sign-up form
Deploy agents (pre-configured)
Data collection begins immediately; dashboards are ready to view in a few hours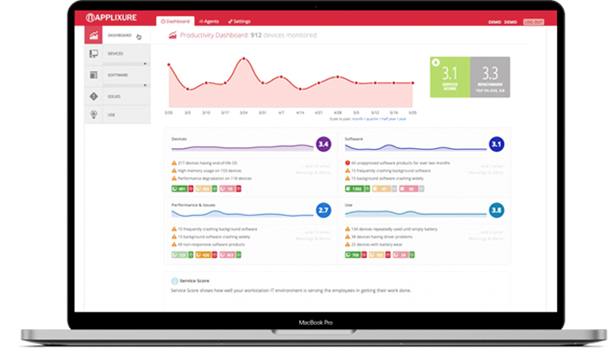 About Applixure: Applixure is a B2B SaaS solution that provides IT with always up-to-date visibility of how computers and software are serving employees. It pulls the relevant data into intuitive dashboards and clearly indicates high-impact yet easy-to-fix issues - enabling your IT to be more proactive. Set-up is quick, so you can start reaping the benefits almost overnight. Founded in 2013 and headquartered in Finland, Applixure is trusted by over 1000 companies and managed service providers.